Oh, Gordon…
So, downloading naked Spooky seemed to be a popular option over at the Patreon page! We've had a bunch of new Patrons join up, and we're back over $5700/month for a the first time a while. That really helps me, a lot—so I'm sending my warmest thanks out to all our Patrons, old and new—and, of course, to Spooky!
But wait, there's more! For those of you who maybe feel like Kyle deserved a better 18th birthday than the one he got, penciler Karly E. and colorist Alex Sollazzo have a special new pin-up for you.
Reactions so far have included: "Nicest thing I've seen all day !", "Yummm. Oh and the cakes are nice too! 😉", "This is amazing!  ❤ ", "I totally ship Karllazzo because they make an awesome art team! :P" and "I think it's awesome.  It totally captures that sweet innocence of young love.  Thanks, Alex!"
Here's the sneak preview of it: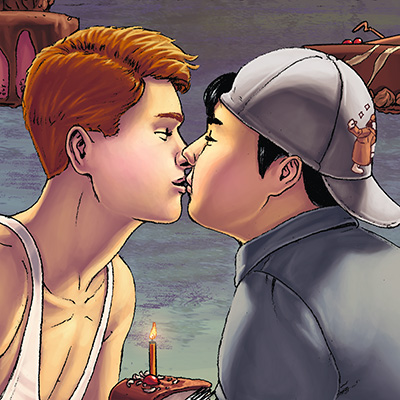 The full image is even cooler—and it's also sized to be an awesome wallpaper for your desktop!
Want to get a little Kyle/Spooky love every time you open your computer? $5+ Patrons can download the full wallpaper immediately. And $10+ Patrons will be sent a high-res version with over double the resolution on the 10th of June!
There are lots of great benefits to being a Patron (you can see them all here along with an explanation of what the heck Patreon is), and you'd really be helping me out if you became one too. If you're enjoying our work here and would like to see it continue (and would like to get access to all kinds of special benefits),
please take a moment to watch the video on my Patreon page and consider becoming a Patron.
So! Tsunami cracks a joke!  And, even more incredibly, he seems to be in a good mood!
Will Spooky be willing to spread a little love in his direction?
Tune in this Wednesday to find out! Hope to see you there! 😀